I had the opportunity this weekend to chat with anime voice actor Vic Mignogna. Vic is famous for his portrayals of Edward Elric in Fullmetal Alchemist and Tamaki Suou in Ouran High School Host Club, as well as for his work as Broly in Dragon Ball Z and Death Scythe in Soul Eater. You might even know him from my personal favorite – Fullmetal Panic – as the American soldier Kurtz Weber.
Vic is currently promoting the recently released Fullmetal Alchemist: The Sacred Star of Milos, now playing in cities across the U.S. and Canada. (You can find a full list of locations here). The film, which premiered on January 20th in North America, follows the adventures of the Elric brothers to Table City as they attempt to track down an escaped prisoner. Events in the film take place during the plot of the Fullmetal Alchemist: Brotherhood continuity.
And Vic's not only a talented voice actor, singer, and media guru – he's one of the geeks! Listen as Vic shares with us awesome stories about growing up with Star Trek, his trip to Japan where he met Romi Paku, voice actor antics, cosplaying at conventions, and upcoming projects like "Star Trek Continues,"  which I'm psyched to see develop over the next year!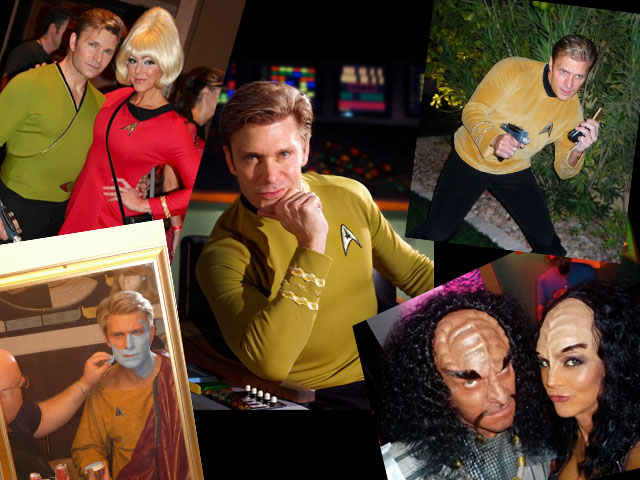 Above: Vic as Captain Kirk and as a Klingon (at right).
For more about Vic, check out his website at www.vicsworld.net. You can find tons of cool stuff (like upcoming convention appearances) on his official fanclub's website at www.risemboolrangers.com. Fullmetal Alchemist: The Sacred Star of Milos comes to DVD April 24th (and you can pre-order it now). Also, make sure to check out the Star Trek Continues Facebook Page!